The simplicity of the social network in your company to work, collaborate, share materials and experiences.
Teammee is a new Enterprise Social Network platform that introduces in the company new way of communication and relationship between people with the aim of optimizing productivity and improve the quality of work.
The Enterprise collaboration platform allows to create a single environment shared for the management of people, information, events, projects, documentation and contents, using tools created from the social media logic that allows to save time and costs.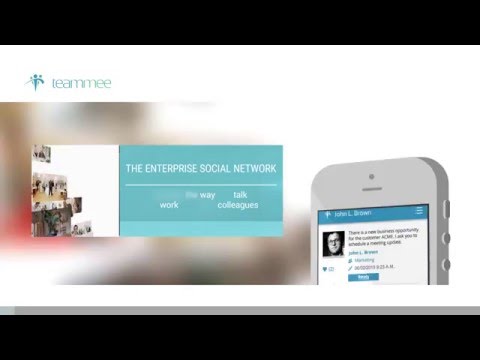 POST, GROUPS, PERSONAL PROFILES, DOCUMENTS, PRIVATE MESSAGES, CALENDAR AND EVENTS
The platform of social intranet – extranet Teammee is:
Intuitive: easy to use just like a social network.
Ready to use: ready to use, immediately available and accessible directly from the web.
Customizable: fits all enterprise strategic needs, and it's possible to integrate with solutions already used in the company.
Multilingual: is available in all languages support the standard UTF-8.
Teammee helps to transform the company into a social organization: open, flexible and innovative.
HR: optimizes the processes of selection of personnel within the company and promotes the arise of people skills.
CRM: promotes alignment, training and self-training and optimizes the sharing of best practices.
ERP: manages documents and deadlines and set up working groups private and public.
SUPPLIER: saves time and increases the speed in communications; organizes activities in a immediate and simple way.
CUSTOMER CARE: facilitates the availability of information and the resolution of personnel problems in self-service mode; creates a unique repository of materials and documents
We don't talk about processes, but about protagonists!